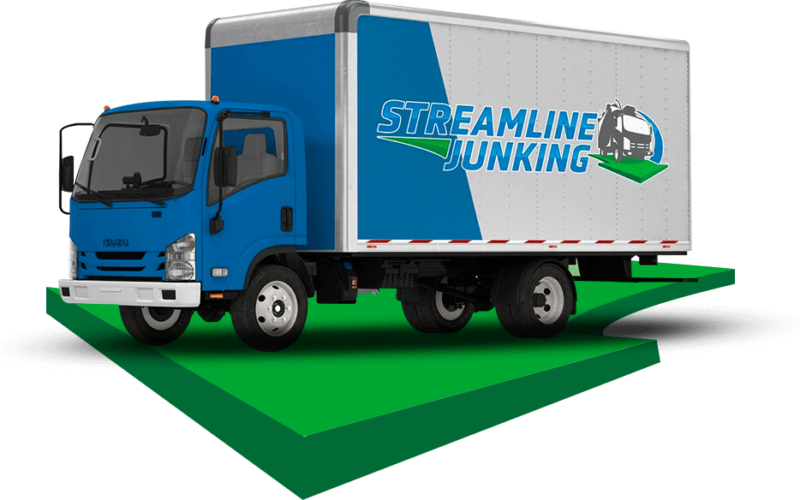 Streamline Junking
If you have any type of property that you are getting ready to remodel or that has lots of items that needs to be removed, it can be quite challenging trying to find the right assistance that you need. Depending on the type of debris or junk that you need to haul away, mainstream service providers can charge you outrageous amounts of money once the service is finished. Streamline Junking can haul away almost any junk removal request you may have for a set reasonable price!
At Streamline Junking, we offer reliable junk removal and debris hauling services designed to help you. Our team consists of experts who know how to safely remove, dispose, and transport junk, so you don't have to. We provide comprehensive debris hauling for a range of different property types and industries. We do our best to recycle, donate, and give back to the environment and community as much as possible.
Whether you're a homeowner looking to clear up some space, or a business owner doing a remodel, or even a contractor needing some assistance, we have all the tools and expertise necessary to help you. There is no project too big or too small for us to handle, so you can depend on us to assist you.
We offer the following Junk Removal and Debris Hauling Services:
At Streamline Junking all of our services are affordably priced, so you can get the help you need without breaking the bank. If you're interested in our junk removal services and would like a free estimate, you may send a request or feel free to give us a call. Our professional team will be glad to give you expert advice and information based on your specific junk removal needs.
Our junk removal services are available to both residential and commercial property owners located in Palm Beach County and the surrounding areas. Let our team at Streamline Junking help you make room for your new ideas, contact us today!
Jake did a great job. He was on time and very professional. Great price. We highly recommend him. Greg & Taylor
Dina Bell
October 17, 2022.
Great service! We were fortunate to find Jake on the Nextdoor app. He was communicative speedy and quite thorough in his work. He is also well spoken and professional. We highly recommend this service.
One of the best companies I have ever hired. Jake and his team get the job done. Thank you Jake and your team for your hard work and professionalism. I would highly recommend them to anyone that needs their service!
Craig Clescere
January 20, 2022.
They are very polite, professional and quick. I would highly recommend them, they do an outstanding job.
Sean Cole
October 26, 2021.
My girlfriend and I recently relocated to West Palm Beach, FL. We had recently purchased our first home and were in absolute need of a debris removal service, to begin renovations. Luckily we were able to connect with Jake at Streamline Junking. He provided us full service, taking our " junk", that we no longer wanted on the property away with ease, it was such a relief. His team and him entered our property with the drive to get the job done. They came in and removed our decking that had been dilapidated/damaged, and in order for us to prep for our in ground pool we required this service. The area was cleaned, and they had removed our old decking, and had us ready for the next phase For anyone whom might be looking to seek junk removal services(interior/exterior), I highly recommend Jake and his group of professionals for your next removal. Quality,,expertise, and family oriented business. Streamline Junking will not disappoint. F
Mindy Ginsberg
October 24, 2021.
Jake and his crew were so reliable and efficient in removing our furniture. Their prices are very fair and their response time is great.
Terry Tver
October 8, 2021.
Came out the same day and removed a lot of old furniture and junk. Very polite and even swept up the debris left behind. I highly recommend them.
ManilaJohn01
June 22, 2021.
STREAMLINE Junking gets a five star rating from me only because I can't give them six! Seriously, they were professional in every sense of the term. They were prompt, courteous, and wasted no time in getting to the task at hand. They took care of business and did so at a fair price. I highly recommend them!
Manny Leon
March 10, 2021.
Team of two young men arrived prompt and went right to work. The task was to remove a large Spa measuring 10" X 9' . They cut the spa in half and were extremely careful not to damage any of the travertine tiles the spa was sitting on. In three hours this beast was removed and hauled away. The price was by far the best in the area.
Palms Wellington Surgical Center
March 4, 2021.
Excellent Service. We needed items removed quickly, and Streamline Junking responded quickly. Everything was wonderful.
Junk Removal Palm Beach County